Produktbeschreibung
Fischen / Angelsport Bestseller
100pcs lot spoon lure float sheet fishing float red fishing tackle free shipping
LURE FISHING is one of the most exciting ways of catching predatory fish. Pike, perch, bass, trout. . . there is an endless list of fish that will gobble these plastic, metal, or wood creations, mistaking them for real fish.
There are three types of lures. Spinners and spoons, soft lures are usually made of metal and either wobble or spin through the water in the same way as real fish. Plugs are made of wood or plastic and work in a number of ways: along the surface of the water, in mid-water, or deep along the bottom.
When you are lure fishing, it pays to search the water and not stay too long in any one position.
Big predators like slack water just off the main current, and some often lie right by the bank.
Use a tackle box or a utility box to hold your lures.
Remember the hooks are sharp.
Fishing heavy cover, where the bigger fish normally live, use a plastic worm or a "jig and pig" (leadhead jig with a pork frog trailer).
Cast into the thickest area of the cover, let the lure drop, then shake the rod tip gently to coax a bite.
Topwater lures are the most exciting to fish.
These lures float on the surface. When fishing with a topwater, cast near the cover, let it set for several seconds, then twitch the rod tip so the lure works on the surface.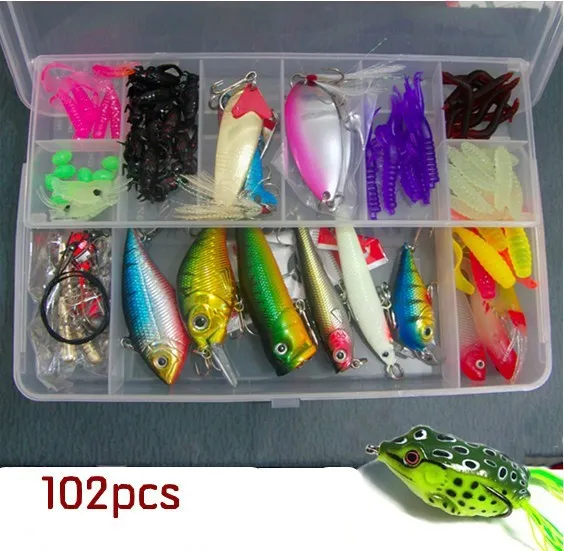 When fishing is tough or slow, try using a smaller lure. A 4-inch worm is a good choice. Rig the worm on a 1/0 hook with a BB-size split-shot weight attached to the line about 18 inches above the hook. Cast the lure out and wait for it to settle on the bottom. Work or reel it very slow. The weight will bounce on the bottom, causing the worm to dart in different directions.
1) Processing of items: 1 to 5 working daysItems are inventoried in China stockhouse Items are checkedItems are packaged
2) Generally we ship parcels by China Post Air Mail /EMS with tracking No..
The typical shipping time is:
Estimated Time of Arrival (China Post Air Mail)USA, Canada & Europe (France, Spain, Italy, Germany & UK etc.) Averagely 15 – 25 business days (excluding weekend and public holiday)South America, Asia, Australia, New Zealand & Other countries and areas Averagely 20 – 30 business days (excluding weekend and public holiday)
Remark:1) Your order will be dispatched within the 1-5 working day basing on the full payment has been cleared;
2) A shipping notification email will be sent to you after we "mark as shipped". Please check your registered email (sometimes in spam box) or view order details for shipping date;
3) Buyer should pay import customs tax if there is any;
** Note: The overall process takes about 5 to 10 working days for most countries. It is also understood that you agree with the above delivery period. In trying to prevent you from any tax accrue, we need to send you our items via EMS and show as GIFT on the declaration form. Please keep this process in mind when you decide to buy our items.
Currently, you can pay using Moneybookers, Visa, MasterCard and bank transfer. You can also pay with select debit cards including Maestro, Solo, Carte Bleue, PostePay, CartaSi, 4B and Euro6000. More payment options will be available on AliExpress in the future. You can choose a method which is the most convenient for you.
1. If the item is defective when it arrive at your country, you has 7 days from the date of receipt to exchange for a new one, but we just pay one-way shipping freight from China to your country. Before ship it back, please contact with us firstly. Also please offer valid proof of the quality problem.
2. If you really don't like the product once you receive it, you can return it back to us with full original paking, and we will just refund you the cost of the item (no delivery charge included). You have 3 days from the date of receipt to return it back.
3. Please check the parcel carefully when you receive it, if you find the parcel is damaged or the device is broken, please refuse to sign the parcel and contact us immediately.
If you are satisfied with your purchase and our service, we will greatly appreciate it if you give us a five-star feedback and leave positive comments on your experience with us!
If you have any questionss or problems, please contact us directly or assistance, rather than submitting a refund request. We aim to solve all problems as quickly as possible!!